Arnold Miller, Ph.D., Director of the Language and Cognitive Development Center of Boston and Affiliate Professor of Psychology, Clark University, received his doctorate in clinical psychology from Clark University. He has held research appointments at Boston University and Harvard Medical School, served on the faculty of the University of Montana and directed the Language Development Laboratory at Wrentham State School in Massachusetts.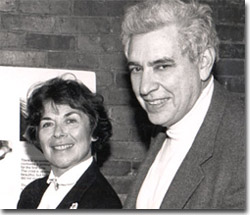 Eileen Eller-Miller, M.A., CCC, Sp/L, Education Director of the Language and Cognitive Development Center, received her M.A. in speech and language pathology from Columbia University and a B.A. in psychology from the City University of New York. She has held positions at Flower Fifth Avenue Hospital, Beth Abraham and Hunter College in New York City.
Together, the Millers founded the internationally respected Language and Cognitive Development Center (LCDC) in Boston, in 1965. From then to the present - with the help of research and demonstration grants from the U.S. Department of Education - the Millers have introduced a range of innovative strategies for helping developmentally challenged children achieve their fullest potential.
Since Eileen Miller's death (see obituary under What's New) Arnold Miller – with the assistance of senior LCDC staff – carries on the mission of the Center using strategies described below.
These strategies - now known as the Miller Method® include the following:
And to help parents and caregivers of children on the autism spectrum, the following:
An Online Chat Room and Discussion Forum. To combat the loneliness and sense of isolation many parents of children on the spectrum feel - and to answer some of their questions - the Millers included within their website an opportunity for direct interchange with the LCDC staff and a forum where they could share experiences with other parents of special children.
Distance Consultation: Recognizing the need of parents and professionals remote from the Center for guidance with the children, the Millers introduced video conferencing in schools, clinics and family homes so they and their senior staff could interact directly with those concerned with the children.
The Miller Diagnostic SurveyTM: Developed by Dr. Miller to help solve the vexing problem of charting children's progress in their programs and determining the best approach for different children on the autism spectrum, is the most recent contribution.