LCDC
Arnold Miller, Ph.D and Eileen Eller-Miller, M.A., CCC are co-founders of the Language and Cognitive Development Center (LCDC), Inc. Since Ms. Millerís death, the Center is being led by Dr. Miller with the assistance of senior staff. LCDC is an internationally known, clinic and training facility for the treatment of children on the autism spectrum.
LCDC has an affiliate in Los Angeles, California. The Los Angeles Miller Method Resource Center (LAMMRC) is directed by Rebecca Sperber.
In addition, LCDC guides Miller Method programs in schools and families in different states. Contact Dr. Miller for information about these sites.
RECOGNITION
The Center has twice been awarded major demonstration grants from the U.S. Department of Education to disseminate its unique cognitive-developmental (C-D) systems approach with disordered children.
An award-winning documentary film, THE EDGE OF AWARENESS, showing day-to-day work at LCDC, has been broadcast on PBS television. More recently, a second award-winning documentary titled, COME BACK JACK has been shown on PBS. This documentary by Robert Parish, videographer father of Jack who attended LCDC, shows Jackís response to the Miller Method.
The Millerís book, FROM RITUAL TO REPERTOIRE: A Cognitive- Developmental Systems Approach with Behavior Disordered Children, (1989, John Wiley, New York) describes the theory and practice guiding the work of the Center (See Key Publications). A new book by Arnold Miller titled BEYOND COMPLIANCE: THE MILLER METHOD® FOR CHILDREN ON THE AUTISM SPECTRUM is scheduled for publication by Jessica Kingsley Publishers in 2005-6.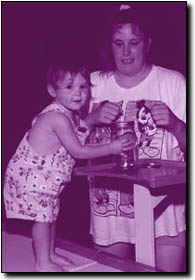 LCDC's PROGRAMS
The Centerís programs include the following:
Miller Umwelt Assessment
This is a 2-3 hour evaluation of children with developmental delays that examines body organization, contact with surroundings, social contact, communication and representation. It assesses the childís strengths and how best to build on them to help the child learn how to cope.
Parent-Child Training (PCT)
This 3-day session -- averaging 3-4 hours per day -- includes the Umwelt Assessment as well as a range of interventions to determine how best to intervene with a particular child. PCT is conducted by Dr. Miller with a team of senior staff members.
Individual Sessions
These are scheduled hour-long sessions -- one to three per week -- during which various Miller Method® strategies are introduced. For non verbal or limited verbal children this may include the Sign and Spoken Language Program; for speaking but non-reading children this includes the Symbol Accentuation Reading Program. Children are seen with parent or caregiver by senior staff members.
Professional Training
Workshops are conducted periodically both at LCDC, at other sites, and by videoconferencing to train and certify professionals in the Miller Method®.
Distance Consultation
The Center makes arrangements for various types of distance consultation (telephone, internet, videoconferencing) with schools, clinics or families. Of these, the most effective modality is videoconferencing.
For detailed information on distance consultation click the Distance Consultation menu button on the left side of the page.
PHYSICAL ADDRESS
LCDC is located at 154 Wells Avenue, Suite 5, Newton, Massachusetts 02459.
ELECTRONIC ADDRESSES
We can be reached at (800) 218-LCDC (5232) or (617) 965-0045, via Fax; (617) 965-0289, or through e-mail. Information requests can be made directly by visiting our Parents' page or Professionals' page on this website.